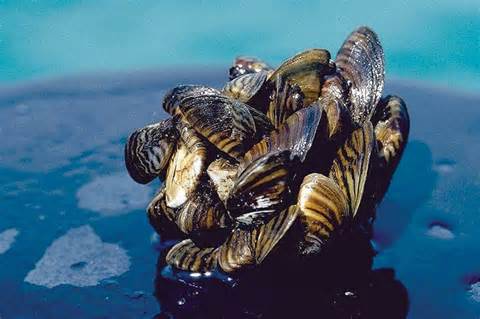 Sounding as much like a basketball coach as natural resource manager, Jim Ruff wants Aquatic Invasive Species (AIS) stopped at the border. Jim, a fish and wildlife manager with the Northwest Power and Conservation Council, is part of a team of U.S. and Canadian agencies setting up a "perimeter defense system."

Join us at the Lake Roosevelt Conference to learn about strategies and resources being employed at both regional and local levels to hold the line against invasives. There will be presentations from WA Department of Fish and Wildlife, Ecology, BC Ministry of the Environment, the Kalispel Tribe of Indians, Lake Roosevelt National Recreation Area and Creative Resource Strategies.

Invasive zebra and quagga mussels still pose the greatest threat to Northwest waterways. Said Ruff, "An infestation of these invasive mussels into our region could cost hundreds of millions of dollars annually to protect everything from irrigation pumps and hydropower facilities to fish and wildlife."

Smaller than your thumb nail, a mussel can filter a liter of water a day. And what they are filtering out is phytoplankton, which creates a domino effect that can take out the base of the food chain. And the speed at which they breed is like a bad sci-fi movie, with mussel colonies forming rock-hard mats of shells that can clog water intake and delivery pipes, infest hydropower infrastructures, adhere to boats and pilings, foul recreational beaches, compete with native mussels, and disrupt food webs and the biological functioning of aquatic habitats.

Currently, infestations are centered in the Great Lakes in the Midwest, and Lakes Mead, Powell, Havasu and Pleasant in the Southwest. What the southwest lakes have in common is connectivity to the lower Colorado River. Invasive mussels are now being found in neighboring western states. Recently juvenile quagga mussels were found in Deer Creek Reservoir in north-central Utah, very close to the Columbia Basin.

"Given the failure to contain invasives at the source, we're trying to set up a perimeter defense in the Northwest, which includes our neighbors in Canada," said Ruff. "We can show you maps with inspection stations located on highways coming into the region. And we know from these stations that contaminated watercraft are coming in from trailered watercraft and commercial haulers bringing in yachts and sail boats."

Northwest states are spending about 2.4 million dollars a year on boat inspection stations, monitoring and outreach. "That's not enough," said Ruff. "We're working to get more funding from Washington D.C. to increase the number of inspection stations, plus the length of time stations are operational and the number of people to operate them. Right now you can come through in the winter and stations are closed. Or you can come through in the wee hours of the morning during the summer and stations are closed. That creates holes in our perimeter defense."

Working with Pacific NorthWest Economic Region (PNWER), the Pacific States Marine Fisheries Commission, the NW states and others, regional players are both developing the perimeter defense strategy and seeking additional funding. The Council is collaborating with interested parties in the Northwest and Canada to share information and develop strategies for 2015 including:
Developing a common understanding of the issues and potential problems
Merging, updating, and sharing all existing anti-mussel action plans
Obtaining consensus on regional recommendations for prevention, early detection, control, and management of invasive mussels
Supporting legislation, planning for visits with legislators
Securing funding for mussel-prevention efforts
Strategies for stopping the spread of invasive mussels at the source
Strategies for public information
As bad as zebra and quagga mussels are, there are also plenty of other invasive species causing trouble. The Kalispel's are gillnetting Northern pike by the thousands on the Pend Oreille; yet they are being seen in increasing numbers in Lake Roosevelt. "If those Pike head downstream or farther west, that's big trouble for salmon and steelhead," said Ruff. Further, Eurasian milfoil and other aquatic weeds continue to migrate into various systems.

Preventing a Northwest infestation is a key measure in the Council's 2014 Columbia River Basin Fish and Wildlife Program. The program calls for:
Reducing threats from invasive species
Preventing the establishment of aquatic invasive species
Monitoring and managing various introduction pathways into the Columbia River Basin
Developing strategies and outreach tools to educate the public
Ultimately, said Ruff, "Everyone is going to need to get involved. The conference is a great opportunity to show what we're doing and find new players to add to our regional defense."